Sanden Hot Water
Get a free quote from Pure Electric here or give us a call on 1300 TO PURE (1300 86 78 73). 
Pure Electric is your home for the Sanden Eco PLUS Heat Pump hot water system; Australia's leading renewable hot water service.  Check out the Sanden YouTube video to see how it works!
Do you want to install the most efficient hot water service on the market that is built to last? Installing the most efficient heat pump in Australia will help your hip pocket as well as the environment.
Get your Sanden Eco Hot Water heat pump installed by our expert team. We offer a turnkey solution: uninstalling your existing tank, sending it for recycling and upgrading you to a Sanden Hot Water Heat Pump, Australia's most efficient hot water service.
Our local plumbers will make sure your hot water service is installed correctly and we will provide tips for maintenance that will keep your Sanden in good working order for years to come. 
 
Check out the Methven Kiri Low flow shower head video on our YouTube page
 
Why Choose a Sanden Eco Plus for your hot water service? 
✅ Highest efficiency heat pump in Australia - with a coefficient of performance (COP) of 6 or 600% efficient the Sanden Eco plus can save you up to 82% on your hot water energy costs!
✅ 15 year warranty on the water tank - Australian made, stainless steel and a 6 year warranty on the heat pump - no worries!
✅ Quietest hot water heat pump system in Australia, just 37dB - quieter than a library.
✅ Power your Sanden with your rooftop solar PV system - by running it from 11am using the "blockout timer", this will save you money.  Find out how on our FAQ page or contact us and we will walk you through the process.
Check out our FAQ page here for Frequently Asked Questions about the Sanden Eco® PLUS Hot Water Heat Pump.
If you have a question about the Sanden Eco® PLUS Hot Water Heat Pump System not listed in our FAQ, please email us info@pure-electric.com.au and we'll find the answer for you.
 
Technical Specifications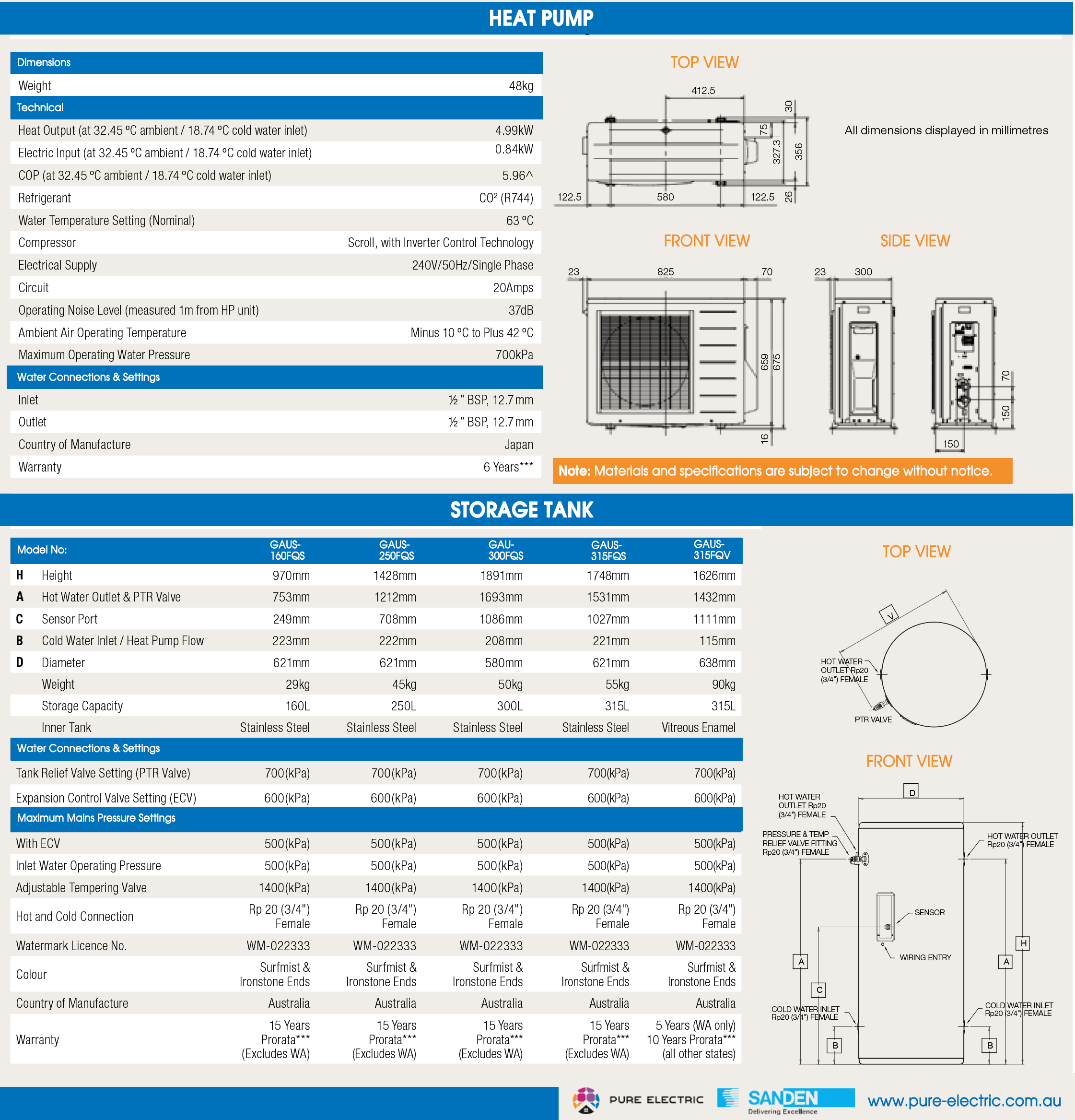 How a heat pump hot water services works and why it is better than a regular hot water service
A heat pump is a solar energy harvesting device just like a rooftop solar PV system or old style rooftop solar hot water system. The difference is that a heat pump collects and concentrates the solar energy, in the form of warm air,around your home and deposits it inside the tank for you to use when required. Your Sanden heat pump hot water service gives excellent service and performance in all Australian weather conditions.
A CO2 heat pump performs well when older style rooftop solar hot water heaters don't. Normal household behaviour is to use more hot water in winter when it is also generally much more cloudy (a time when roof top solar heaters perform poorly), while the Sanden's performance stays consistent throughout the seasons in Australia's temperate climate. 
The Sanden Eco Hot Water Heat pump will reduce your energy by more than 90% when compared to an average gas storage hot water service and 80% when compared to an electric hot water service.
Federal and State government subsidies are available to help make your purchase affordable and accellerate your move to a pure electric house with a renewable hot water service. What's more - if you've got rooftop solar electric panels then you can schedule your Sanden to run during the day while your solar system is producing maximum power which also maximises the use of the solar energy you generate.
The Sanden is leagues ahead of all the other heat pumps in the Australian market, it uses technology that was developed under a program lead by the Japanese government, involving all the leading Japanese refrigeration companies, to build the most efficient kind of heat pump possible for the purpose of producing hot water at low temperatures.  The program was called "Ecocute" and involves using supercritical CO2 as the working fluid
The Sanden achieves more renewable energy certificates under the government's renewable energy promotion scheme than any other heat pump which is the strongest indicator of just how good a product it is.  Unlike all other heatpumps in the market the Sanden is so quiet that it's quieter than the noise in a library.
Don't waste your valuable rooftop space on an old style conventional solar hot water unit when you can put more solar electric panels in place. With conventional solar hot water in summer your system maybe losing hundreds of litres of our precious water resource daily due to overheating while a Sanden will produce just the right amount of water for your needs.
Talk to us now, for professional advice from our trained engineers. No gimmicks, no sales tactics just straight up and down best advice and service. We offer a fully integrated service to get you off old gas or conventional electric and on a pathway to energy efficiency and renewable energy freedom.  Starting with an efficient Sanden Eco CO2 hot water service we can eliminate your annual energy usage, saving you thousands on your bills and using our knowhow to upgrade you to the latest and most efficient solar powered lifestyle.