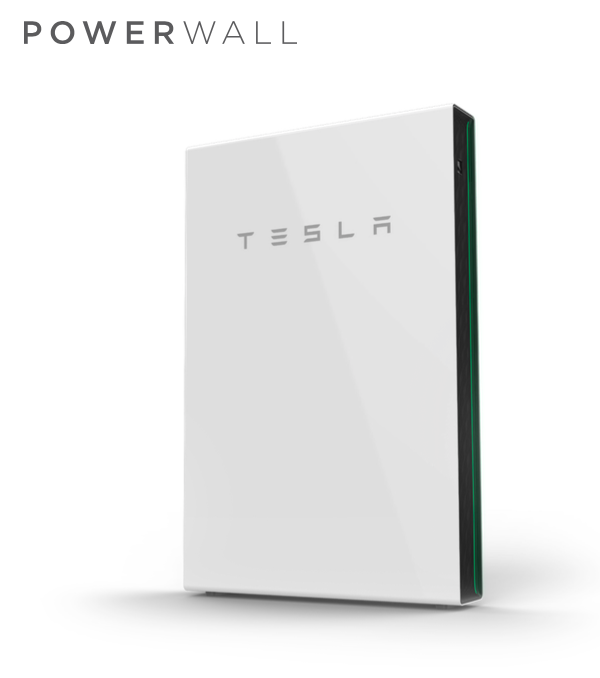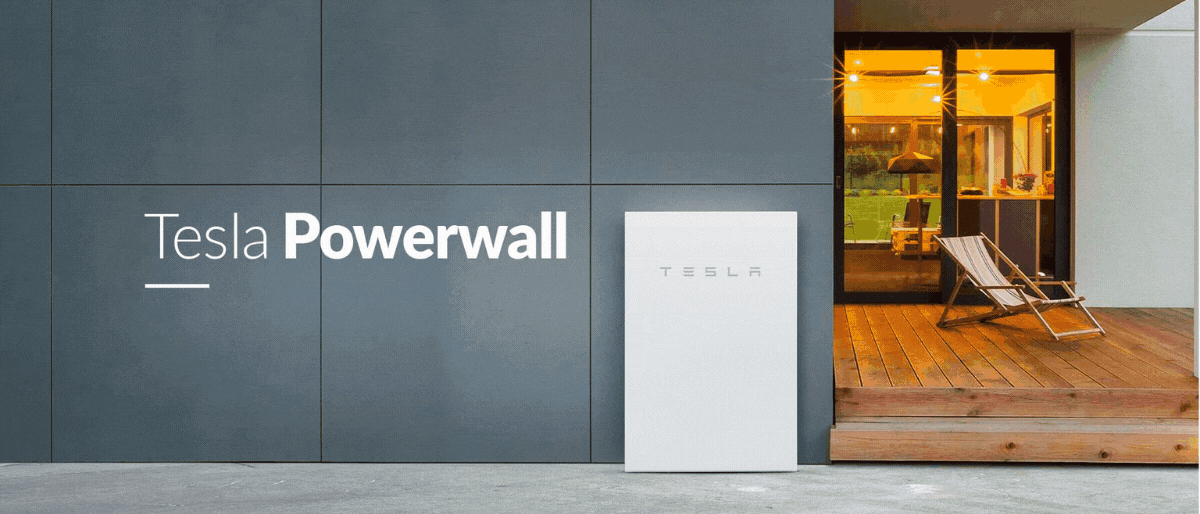 Tesla Powerwall 
Tesla Powerwall is a fully-integrated AC battery system for residential or light commercial use. Its rechargeable lithium-ion battery pack provides energy storage for solar self-consumption, time-based control, and backup.
Powerwall's electrical interface provides a simple connection to any home or building. Its revolutionary compact design achieves market-leading energy density and is easy to install, enabling owners to quickly realize the benefits of reliable, clean power
Benefits of your Tesla Powerwall
Tesla Powerwall allows you to store 14 kWh of energy (13.5 kWh usable) and use that energy to run your home with solar during the night and back up your home in the event of a power outage.
Powerwall is compact, safe and includes a built-in battery inverter, which provides easier integration and over-the-air updates for new features and functions
✔️ Self-Powered Home : Use solar and Powerwall to reduce reliance on the grid and run your home off solar day and night.
✔️ Energy Savings: Reduce your power bills by charging during off-peak times
✔️ Backup Power: Protect your home from a power outage with seamless and reliable backup power
✔️ Home Energy Control: Manage and control your home energy use in real-time with the Tesla mobile app
How does the Tesla Powerwall Work?
1 - Solar begins powering your home in the morning when the sun rises.
2 - Excess solar energy charges your Powerwall.
3 - Powerwall runs your home at night.
Performance Specifications
AC Voltage (Nominal)
230 V
Feed-In Type
Single Phase
Grid Frequency
50 Hz

Total Energy


( Values provided for 25°C, 3.3 kW charge/discharge power.)

14 kWh

Usable Energy


( Values provided for 25°C, 3.3 kW charge/discharge power.)

13.5 kWh
Real Power, max continuous
( In Backup mode, grid charge power is limited to 3.3 kW)
5 kW (charge and discharge)
Apparent Power, max continuous
5 kVA (charge and discharge)
Maximum Supply Fault Current
10 kA
Maximum Output Fault Current
32 A
Power Factor Output Range
+/– 1.0 adjustable
Internal Battery DC Voltage
50 V

Round Trip Efficiency

( Values provided for 25°C, 3.3 kW charge/discharge power.
AC to battery to AC, at beginning of life.)

90%
Warranty
10 years
Mechanical Specifications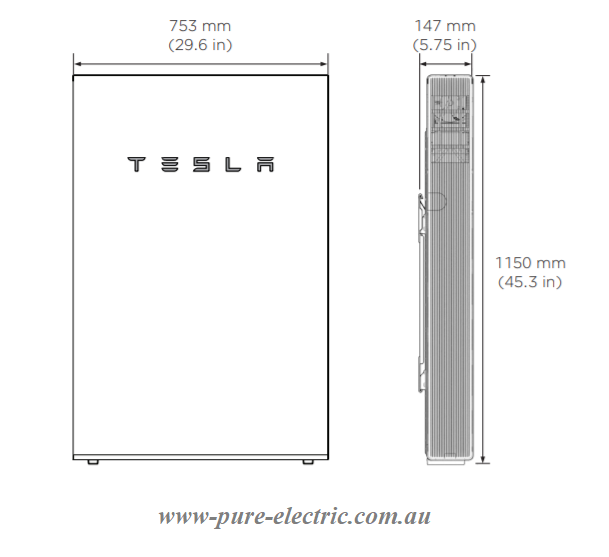 | | |
| --- | --- |
| Dimensions(1) | 1150 mm x 753 mm x 147 mm |
| Weight | 114 kg |
| Mounting options | Floor or wall mount |
(1) - Dimensions and weight differ slightly if manufactured before March 2019. Contact Tesla for additional information.
Environmental Specifications 
Operating Temperature

–20°C to 50°C

Recommended Temperature

0°C to 30°C

Operating Humidity (RH)

Up to 100%, condensing

Storage Conditions

–20°C to 30°C
Up to 95% RH, non-condensing
State of Energy (SoE): 25% initial

Maximum Elevation

3000 m

Environment

Indoor and outdoor rated

Ingress Rating

IP67 (Battery & Power Electronics)
IP56 (Wiring Compartment)

Wet Location Rating

Yes

Noise Level @ 1m

< 40 dBA at 30°C
Typical System Layouts
Whole Home Backup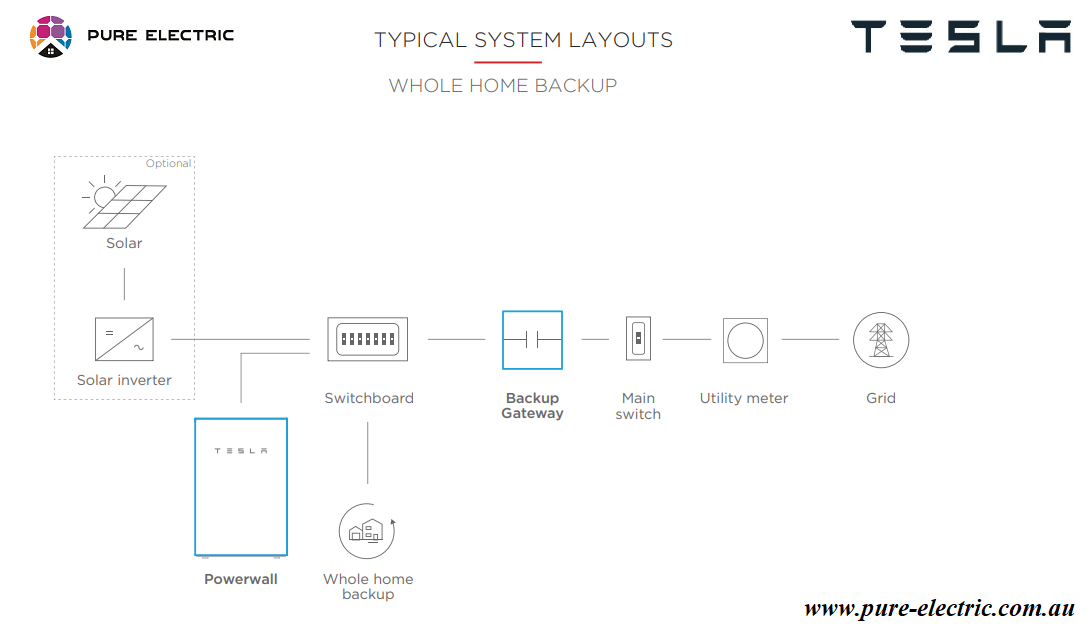 Partial Home Backup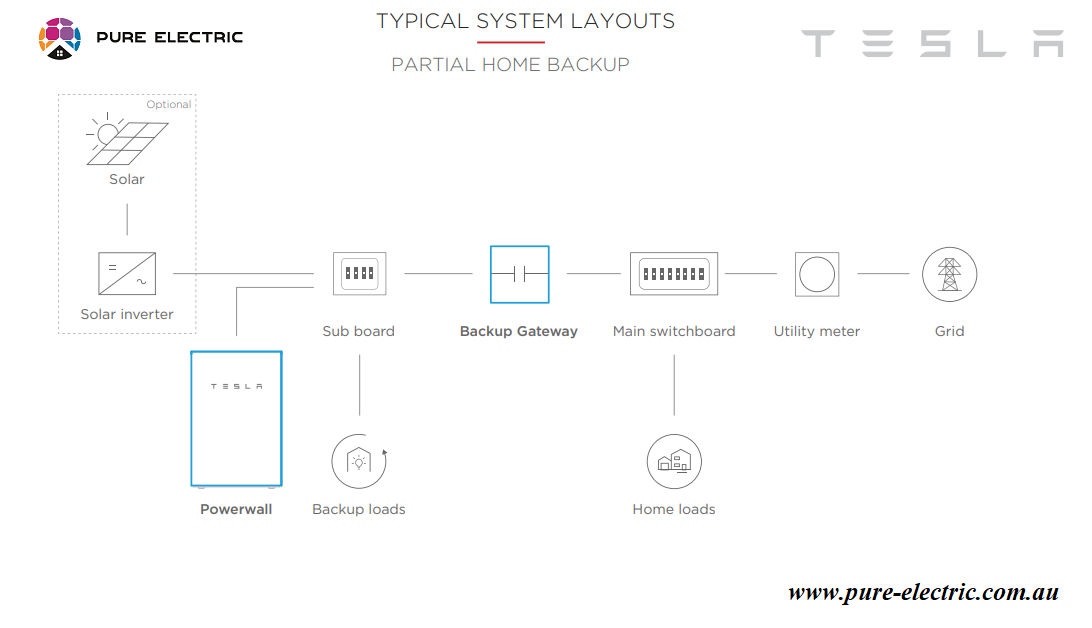 F.A.Q
Frequently Asked
Questions
Tesla mobile app - log in / set up / learn more

Once your Powerwall has been turned on, download the Tesla app and start monitoring your Powerwall and home energy usage.

Step 1: Log In
Log in using the same email address you used to order Powerwall with solar. If you are already a Tesla vehicle owner, log in using the same email address you use to sign into your Tesla Account.

Step 2: Set Up Notifications
Receive notifications when Powerwall starts backing up your home during instances such as a power outage.

Step 3: You are now logged into the Tesla app
Learn more about the features of the Tesla mobile app. You can also learn more about using and customizing your Powerwall below:

Why does the Tesla mobile app show power flows or values that appear inaccurate?

Power flow on the monitoring Tesla mobile app shows the instantaneous flow of power of your home energy system. On a typical day a combination of solar, grid, and Powerwall may be powering your home. Solar energy may flow to the grid when your home does not need it and Powerwall is full. When charging your Powerwall to its backup reserve level or in Backup-only mode, solar power will flow directly from solar to Powerwall while grid energy is drawn for the home.

Where can I find my Powerwall Gateway information?

The Tesla Gateway part number and serial number for your Powerwall Gateway will appear on a sticker on the inside of the Gateway door. Learn how to locate your Gateway information here.

Why isn't my Powerwall charging?

When installed with PV, Powerwall is designed to charge from solar energy. If your solar system is not yet operational, Powerwall will not be able to charge. If your solar system is operational and you are in Self-powered Mode, Powerwall will charge with any excess solar that your home doesn't immediately use. Smaller solar systems sometimes do not produce more than your home is currently using. You can increase the backup reserve or switch to Backup-only, which will prioritize charging Powerwall with any solar production.

How much does it cost to go off-grid?

The cost to go off-grid will depend on your expected/anticipated energy demand. With knowledge of your energy demand we can then help you size your battery storage, solar PV, generator, microgrid inverter, etc.

It is worth noting that connecting a new block to the power grid can cost between $15,000 and $50,000 depending on the situation. And a typical energy bill for the average household is around $3000-$4000 per year (or higher in colder areas). Given the cost of grid connection and supply, a well maintained and high quality off-grid system is likely to be cheaper in the long run (20 years +), depending on your particular situation (if grid connection is >$30,000 you can pretty much assume off-grid will be cheaper).
Testimonials
What they are saying about
us
This is a honest review of pure electric it has good speed, good brakes and wheels but the battery life is terrible as it only lasts like 2 miles and the battery is gone you need to fix this as this i...
Pure electric is 100% focus on design and support for your Energy, Solar and Battery system. Matthew consulted on upgrade to ensure each old and new PV panels were monitored for individual performanc...
Get off gas, fossil and fracking free is their motto and that\u2019s what we\u2019ve done. Thanks to the team at pure electric, Dave who plumbed our Sanden hot water heat pump, Mike and Vu who did our...