FEATURED PRODUCTS
WE DELIVER WORLD
LEADING PRODUCT BRANDS
About Us
Pure Electric

are Australia's nation wide experts

in providing the highest quality all efficient electric solutions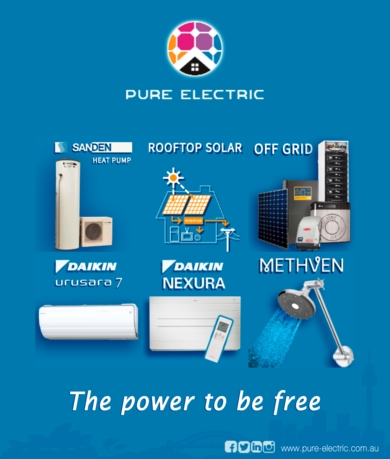 Striving to develop 'Environmentally Advanced' Products.
Over 15 Years of Experience

Co-Founders Matthew Wright and Paul Szuster have been campaigning to develop the Renewables and Efficiency industry from its early beginnings

Professional Services

Either inhouse or through our strategic partners including TrueDemand we offer our deep experience on energy for clients of any size.

Affordable Price

Our solutions are designed to save you money while always giving you a competitive and streamlined service. Talk to us about saving on your bills.
F.A.Q
Frequently Asked
Questions
Sanden Eco Hot Water Tank Size Options? Which tank size should I choose?

The Sanden Eco Plus hot heat pump hot water system is available in the following five sizes with our sizing guide below:

| | | | | | | | | |
| --- | --- | --- | --- | --- | --- | --- | --- | --- |
| Tank size/shape | Tank Code | System | No. of People | No. of Bathrooms | Dwelling type | Off-peak & Continuous tariffs? | Tank Diameter (mm) | Tank Height (mm) |
| 160L SS | SAN-160SAQA | GAUS-160FQTS | 1 | 1 | Bedsits | Continuous only | 621 | 970 |
| 250L SS | SAN-250SAQA | GAUS-250FQTS | 1-3 | 1-2 | Residential | Both | 621 | 1428 |
| 300L Tall SS | SAN-300SAQA | GAUS-300FQTS | 2-6 | 1-3 | Residential | Both | 580 | 1891 |
| 315L SS | SAN-315SAQA | GAUS-315FQTS | 2-6 | 1-3 | Residential | Both | 621 | 1748 |
| 315L VE | SAN-315VE | GAUS-315FQTV | 2-6 | 1-3 | Residential | Both | 638 | 1626 |

The same Sanden Heat Pump condenser unit is used in combination with different tanks sizes. So which tank size you would like?

When considering tank sizes - we need to consider a few factors - number of people, number of bathrooms, the heat recovery rate.

If you're using an existing hot water system for comparison - here are some comments/thoughts:

If you have an existing gas storage hot water system (e.g. 130L / 170L) - these are much smaller in capacity but they will reheat several times a day. Therefore the Sanden tank size will be larger than an existing gas storage replacement with the Sanden re-heat typically only required once per day - a good opportunity to maximise rooftop solar PV production or to utilise an off peak tariff.

If you have an existing electric storage hot water system (e.g. 400L 3.6kW unit) - these electric storage 3.6kW units recover heat at a slower rate (60L/hr) compared to a Sanden heat pump (approx. 80L/hr). Therefore a 400L electric storage hot water system would equate to a 300L/315L Sanden system in this example.

Based on our years providing the Sanden Eco heat pump hot water system - here are our tank recommendations for different scenarios (SS - Stainless Steel // VE - Vitreous Enamel):

160L SS: Only recommended for 1 person bedsits. This tank size is rarely chosen and due to its small tank size must be run in Continuous only mode (no blockout timer can be set up).

250L SS: Typically 1-3 person household with 1 bathroom. Height just under 1.5m with tank diameter 621mm.

300L SS: The Tall Slim - the most popular and best recommended tank choice. Recommended for 2-6 people. Tank diameter 580mm and tank height just under 1.9m. If no height restrictions apply, this is the recommended tank for majority of situations and considered best value for money across the tank sizes.

315L SS: The largest tank size with an additional 15L delivered hot water (5% more) compared to the 300L Tall Slim tank. Tank diameter 621mm with tank height 1.74m - this is recommended if the 300L tall slim tank is too tall for your application.

315L VE: Tank diameter 638mm with tank height 1.63m with 315L delivered hot water. This VE tank is specified for poor water quality areas - you can identify if you are in a poor water quality area via the Sanden website -> https://www.sanden-hot-water.com.au/check-water-quality/

Can I swap out my old showerhead for the Methven Kiri Satinjet Low Flow Showerhead?

Can I swap out my old showerhead for the Methven Kiri Satinjet Low Flow Showerhead?

In most instances yes absolutely. The Methven 5.0L/min 5 Star Kiri Satinjet Low Flow showerhead comes with a half-inch 1/2" BSP connection which is very common amongst showerheads making swap-outs very easy.

A test to confirm if you can swap out a standard rose or not from an existing shower arm is if you can twist it off yourself.

If you can't twist the head/'rose' that probably indicates the existing shower rose is integrated into the arm.

In this instance you need the Rose plus arm (either modern arm, capstan or dual pivot arm).

See below an example of an old very inefficient 15-25 L/min integrated showerhead that would need a new Rose plus arm (unscrew the entire arm off the wall). The Methven 5.0L/min 5 Star Kiri Satinjet Low Flow uses between 3-5x less water than those shower heads in the picture below, a huge water and energy saving opportunity.

You can choose any of our Methven 5.0L/min 5 star Kiri Satinjet Low Flow showerhead options from our website.

     

Best Electricity Rates?

Best Electricity Rates?

You have recently installed solar PV or the Tesla Powerwall battery storage or just generally looking to get the best electricity deal for your place?

Here are a couple of recommended tools so you can choose which electricity retailer suits you. We recommend doing this check once every 6 months.

If you're in Victoria - the Victorian Government Electricity Retailer Tariff Plan Comparison Tool - https://compare.energy.vic.gov.au/. Enter your NMI and details, so long as you have a smart meter installed, the tool will look up your most recent 12 months of energy data and recommend the lowest priced electricity plan which accounts for your imported and exported energy as well as the import and export tariffs. 

If you're in SA, ACT, NSW, QLD, Tas - go to the Energy Made Easy website which is an Australian Government website maintained by the Australian Energy Regulator (AER) - https://www.energymadeeasy.gov.au/

If you're in WA - this is a Regulated Retail energy market with the supplier being "Synergy" the State Government owned entity - you can view the latest Regulated Tariff price here - https://www.wa.gov.au/organisation/energy-policy-wa/household-electricity-pricing

Selectronic SP PRO and SP LINK Firmware Updating

You have a Selectronic SP PRO Series 2i Inverter and would like to ensure you keep the Firmware up to date?

Ensure you have the Latest SP LINK Software downloaded. This is critical to ensuring the latest Firmware gets loaded onto the SP PRO.
Open SP LINK on your Windows PC and confirm you have the latest SP LINK installed - you can go to "Help" -> "Check for Updates")
In SP LINK go to "File" then go to "Firmware Update..."
If an SP PRO Firmware Update has been detected, click the button, "Update Firmware and Restart SP PRO on completion"
During the SP PRO restart, "the SP PRO may be inaccessible for a few minutes while the firmware is installing. During this time, the SP PRO alarm may sound."
Once uploaded and restarted - your SP PRO should now have the latest Firmware and will say, "The firmware is already up to date."

NB: The Selectronic website for a full history of the Selectronic SP LINK and SP PRO software and firmware updates

How to reconnect Wi-Fi for my SolarEdge Inverter?

Your SolarEdge inverter may have disconnected from the internet - for example a change in the modem/router, change in ISP provider, etc.

To update the Wi-Fi settings on your SolarEdge inverter - follow these steps:

Download the 'MySolarEdge' app > Android and Apple iPhone
Log-in with your username and password
Select 'Inverter communication'.
Select 'Configure'.
Select 'Connect with WPS' or choose your home network from the available networks.
Type your password, then select 'Join'.

Myenergi Hub How do I update the firmware?

You can view your Myenergi Zappi EV charger basic controls and data on the Myenergi Hub.

If you would like to update your Myenergi Hub to the latest firmware, some details for how to update this:

The Myenergi Hub has two buttons. The steps to update the firmware:

Unplug Power to the hub
Press and hold the 'Download' button (right hand side)
Keep pressing the 'Download' button while you plug the power back into the hub
Check the status lights on the Hub – once the Power LED turns yellow, release the button
The Power LED light should be Green and the Server LED light should be white while the firmware is downloading
Once the download is complete the Server LED light will turn green (or blue) again
RESOURCES
Check our
RESOURCES
Daikin US7

Sanden Eco Hot Water Heat Pump

Methven Kiri Satinjet Low Flow Showerhead

Rooftop Solar PV

Off Grid Energy

Daikin Nexura

Tesla Powerwall Battery Storage

Daikin Alira

Daikin Perfera

Daikin Alira X Heating and Cooling

Myenergi Zappi EV Charger
Testimonials
What they are saying about
us
Super helpful and knowledgeable. Great after sales service.
Pure Electric installed our rooftop solar system in January this year. It was a quick and efficient installation despite some obstacles. Since then they have been very responsive to any questions I send their way. I would recommend Pure Electric to anyone who is looking to have a solar system…
Over six years ago, I decided to replace Ducted Gas heating, Gas Cooktop, and Gas boosted solar hot water.Careful research led me to Pure-Electric.I got good, honest and accurate advice, and subsequently installed a Sanden Heat Pump HWS, and a Daikin Reverse-Cycle Air Conditioning (split) system…
I won't go into the commercial specifics of our case but we had a serious issue with our Sanden hot water heat pump (which we love due to its efficiency and quietness) and Matt and his crew were not the original installation organisation. We had been told we had few (expensive) options to…
I wanted to get a serviceman to reset the timer and clock bu Paul helped me do it myself over the phone.
Mathew talked me though a factory reset over the phone with clear, simple instructions and even asked for me to let him know after a period of time that it was still working so that he knew he had resolved the issue. I'd happily call Pure Electric with any future electrical issues based on this…
New
Recent posts form our
new