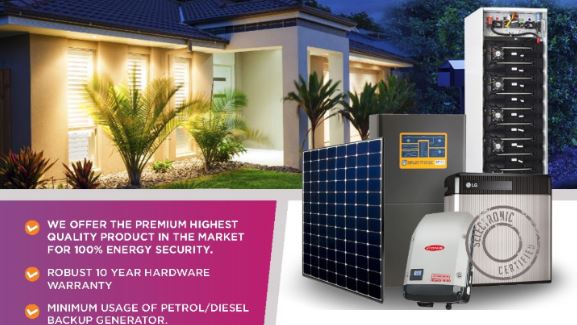 Off-Grid
Our off-grid solutions include solar power and battery storage and result in complete grid independence. Pure Electric are the off-grid energy experts who provide complete off-grid solar system packages Australia wide.
Pure Electric are a leading supplier of off-grid solar systems and off-grid solar power solutions. We are leading experts in the field of off-grid systems and only use the best quality and most reliable equipment.
Why choose Pure Electric for your 24/7 off-grid power supply?
✅  We only use the highest quality products on the market, for 100% energy security.
✅  We offer a 10 year hardware warranty, we stand behind our systems.
✅  Our systems are expertly designed so that minimal usage of a petrol/diesel back up generator is required.
Our off-grid solution broken down (system components)
✅  Our microgrid solution - Selectronics SP Pro - Click here for more information on the Selectronics SP Pro
✅  Solar Inverter - Fronius Inverter (SCERT modelled - certified to work with Selectronics SP Pro) - Click
here for more information on our Fronius Inverters
✅  Solar Panels - Choose one of our fantastic solar PV panels to work with your off grid energy system - Click here for more information on our rooftop solar PV options
✅  Home battery storage - BYD LVL storage - Selectronic approved managed battery