The Daikin US7 (short for Ururu Sarara) is the first 7 star Energy efficient heat pump. This unit is more than just a heat pump / air conditioner, it includes functions to heat, cool, humidify, dehumidify, purify and ventilate the air. This unit is packed with advanced features and is one of a kind in the market place. There is no longer any need to buy three appliances for total climate control in your home. Not only will you have the best comfort solution available for your space heating and cooling requirement but with a Daikin US7 you will save plenty on your household heating and cooling running costs year after year.
Running Costs Simplified
In simple terms the smaller 2.5kW (cooling) 3.6kW (heating) unit (FTXZ25NV1B) which is the size we most commonly supply to customers, when operating at rated output will cost approximately 3.2c per kilowatt hour to operate.  If you combine it with solar which we recommend and are happy to supply then it will cost even less - equivalent of 1.2c per kilowatt hour to operate. (Based on Victorian average Powershop electricity rates)
Efficiency
The US7 heater air-conditioner is more than 600% efficient compared to direct electric systems and more than 1200% efficient when compared to average existing gas ducted systems.  To put it in different terms the unit uses 1/6 the energy of a conventional electric resistive heater and 1/12th the energy of an average existing gas ducted heating system.
Leader
Delivers humidification and dehumidification all in one system
Brings fresh, conditioned air into the room
Improves indoor air quality
Offers inverter technology efficiencies which lead to upto 30% savings over conventional split systems.
Automatic cleaning filters for up to 25% additional energy savings
The award winning Ururu Sarara offers you the ultimate comfort solution with extremely low environmental impact and low energy consumption.
YOUR BENEFITS
AWARD-WINNING DESIGN
| | |
| --- | --- |
| Winner of the prestigious 2013 reddot design award in the air conditioning category. | |
INTELLIGENT HUMIDITY CONTROL
Avoids dry air in winter and dehumidifies in summer.
FRESH AIR, ALL YEAR ROUND
Ventilation and purification, guided by a motion-based intelligent eye, for perfect air when and where you need it.
USER-FRIENDLY CONTROL
Control it with a wireless remote control, via an app or as part of your home automation system.
ENERGY EFFICIENCY
The highest energy efficiency unit and only unit to achieve the Federal Government's 7 star rating. Thanks to advanced energy-saving technologies.
Five (5) air treatment techniques
1. Heating and cooling
The Ururu Sarara can heat or cool any room quickly and efficiently, making it an invaluable part of the home throughout the year
2. Humidification, even during heating
Temperature can't measure how a room feels. 

The air around us naturally contains a certain amount of moisture. Making the air too dry not only makes your room feel too cool, it also leads to sore throats and dry skin as well as making the body feel warmer, even at lower temperatures - thus reducing heating demand and energy consumption.
Humidification is known as 'Ururu' in Japanese. For humidification, no water reservoir is required. Moisture is absorbed from the outdoor unit and streams into the indoor unit where it is evenly distributed throughout the room. The Ururu Sarara's intelligent humidification system draws in just the right amount of latent moisture from outside.  Ururu humidifying operation offers improved no-water-supply humidification with Daikin's unique technology which allows the Ururu to use the moisture already present outside your house to supply and operate the built in humidification feature.
          Temperature 22°C 

          Humidity 20% 

          You feel cold in dry air even at a higher temperature

                                     Temperature 22°C 

                                     Humidity 50% 

                                     You feel comparatively warmer in humidified air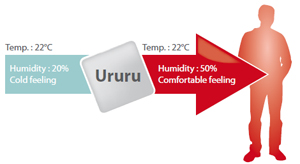 3. Sarara dehumidification without heat loss
There's more than one way to cool a room in summer. 

Dehumidification, or 'Sarara' in Japanese, reduces the indoor humidity without affecting the room temperature, by mixing cool, dry air with warm air. So no hot and stuffy rooms any longer! During summer, ambient humidity rises, making rooms feel hot and oppressive. With conventional systems, you'd have to cool the room, wasting energy and electricity.  In basic terms the advantage of having an inbuilt desiccant wheel (the special hardware that only US7 has out of all domestic units)  is that cooling and humidity control can be dialed up separately.  If it's muggy - you are not forced to cool the house to extremely low temperatures (or at all) to remove the excess humidity).
The Ururu Sarara's intelligent dehumidification automatically and efficiently transfers the excess moisture out of the room, while always maintaining an even temperature. 
 
 
 
Temperature 25°C 
Humidity 80% 
You feel warm in humid air even at a constant temperature
Temperature 25°C 
Humidity 50% 
You feel comparatively cooler in dehumidified air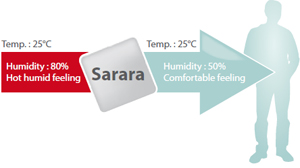 4. Ventilation
Fresh air, even with closed windows 

Unlike a conventional system, US7 brings filtered outside air into your room and because of its powerful ventilation capacity it can fill a 26m2 room with filtered outside air in less than two hours (on standard mode - even more if high is selected) Furthermore, the incoming air is brought to the desired temperature for enhanced comfort. The air supply fan is located in the outdoor unit, which minimises indoor noise.
5. Air purification
Non-stop purified and allergy-free air with Daikin Flash Streamer technology 

The Ururu Sarara purifies the incoming air by passing it through dust and pollen filters before the photocatalytic air purification filter breaks down any odours such as cigarette smoke and cooking smells.  In the final stage, the Flash Streamer breaks down any possible remnants of harmful chemicals, viruses and moulds. All options including the flash streamer can be optionally enabled or disabled as required.
 
 

Pre-filter catches dust
Flash streamer releases streams of high-speed electrons with strong oxidation power
Deodorising filter absorbs and breaks down odours before the air is returned into the room
Technology
3-area intelligent eye

Daikin has developed an 'intelligent eye' for the Ururu Sarara. It's a motion detector that knows when you're in the room, turns the power down and even switches off the unit if you're not. 
But it also knows where you are in the room, and directs the air flow away from you. A really smart way to control a room's temperature without ruining its atmosphere.
Automatic filter cleaning
Air conditioners use filters to clean the air as it passes through the unit. And the more particles that collect in the filter, the less efficiently it works. But the Ururu Sarara's state-of-the-art self-cleaning technology makes that a thing of the past. You get a constantly stable air flow rate while it uses 25% less power. 
An internal brush automatically removes dust from US7's air filter, helping maintain stable airflow and reducing power consumption, which increases when filters are blocked or dirty. Dust is collected in a convenient, easy to empty container.
Even Air distribution
Completely Revamping the Indoor Unit Design Structure to Increase Efficiency
Conventional air conditioners that draw air from the upper part of the unit do not allow sufficient utilization of the heat exchanger on the back of the indoor unit. By redesigning the interior unit from scratch and giving it a specially developed, industry-first flap with dual intake structure so that it sucks air from below, we boosted the efficiency of the heat exchanger.
Conventional air conditioners that draw air from the upper part of the unit do not allow sufficient utilization of the heat exchanger on the back of the indoor unit. By redesigning the interior unit from scratch and giving it a specially developed, industry-first*1 flap with dual intake structure so that it sucks air from below, we boosted the efficiency of the heat exchanger.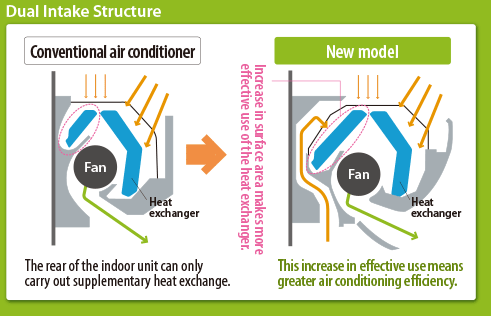 Yuragi-pattern airflow reproduces a natural breeze effect We improved our airflow control technology to achieve a natural breeze effect that is comfortable on the human body even over long periods of time.
Circulating airflow an innovative approach relies on a newly designed flap and dual intake structure, the product achieves a circulating airflow that takes air to every corner of even a large living room.
Coanda Airflow
The Ururu Sarara 7 has been redesigned to push air "up and over" furniture and objects up to 12 meters from the unit. The louvres have been newly designed to direct air towards the ceiling causing cold air to runs along the ceiling through the "coanda Effect".   This cold air then comes down opposing walls to give an even distribution of the resultant "coolth" also minimising draughtiness that may be experience with other units and ducted systems.


From the diagram we can see that a conventional air conditioner will direct out cold air straight out and down which will fall right away due to the fact that hot air rises and cold air falls. Furniture and other obstructions then impede the airflow creating pockets of cooler air in some parts of the room and much warmer pockets in other parts.
The "Coanda Effect" used by the Ururu Sarara 7 ensures that temperature distribution is more even and there is a lot less of a chance for different temperature pockets of air to be present in a room creating a much more comfortable outcome.
Therefore the Ururu Sarara 7 will achieve the desired set temperature in a room much quicker than conventional air conditioners.
Daikin Inverter technology utilising the most efficient swing compressor technology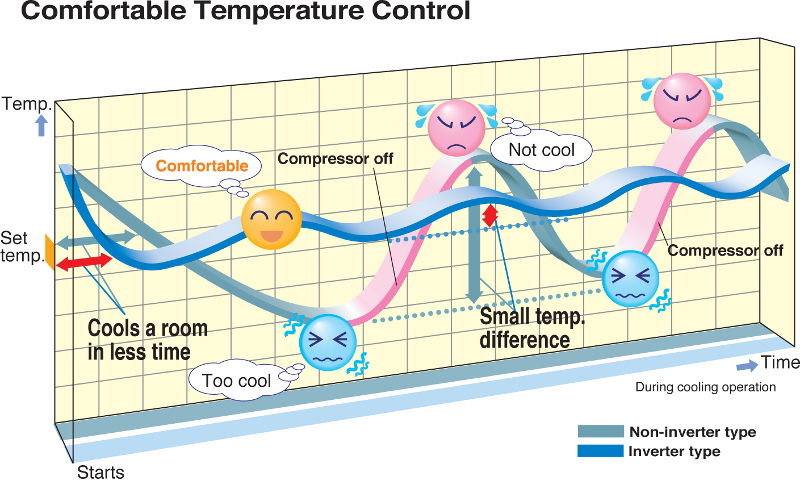 Daikin's inverter technology is a true innovation in the field of climate control. The principle is simple: inverters adjust the power used to suit the actual requirement - no more, no less! This technology provides you with two clear benefits:
Comfort: The inverter repays its investment many times over by improving comfort. An air conditioning system with an inverter continuously adjusts its cooling and heating output to suit the temperature in the room, thus improving comfort levels. The inverter reduces system start-up time, so the required room temperature is reached more quickly. As soon as the correct temperature is reached, the inverter ensures that it is constantly maintained.
Energy efficient: Because an inverter monitors and adjusts the ambient temperature whenever needed, energy consumption drops by 30% compared with a traditional on/off system.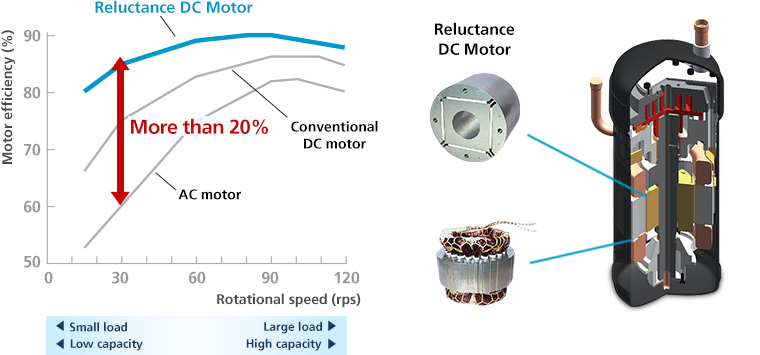 Daikin Swing compressor vs conventional rotary compressor video https://www.youtube.com/watch?v=6SiF7yqFwXQ
Always in control
The Ururu Sarara comes with a handy remote that tells you everything you need to know at a glance (even in the dark thanks to its illuminated buttons).
But you can also set the temperature without even being in the room via your iPhone or Android smartphone, or as part of your home automation system.
Videos
Daikin US7 Video manual for the remote control operation.
Other Videos
Unit components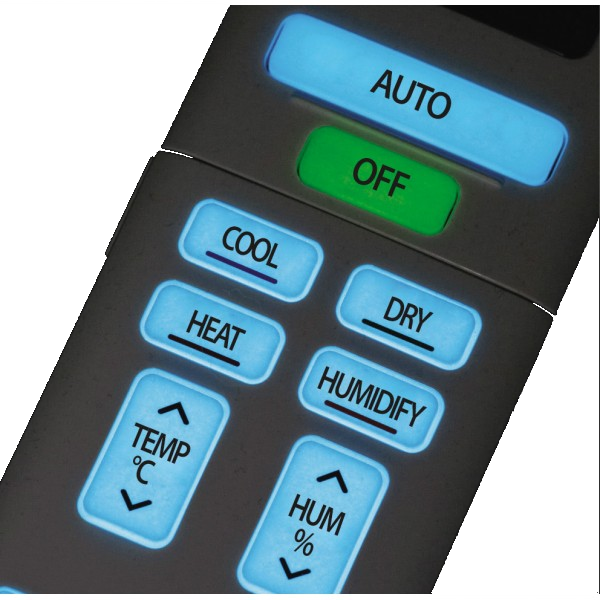 Technical Specifications
 
FTXZ25NV1B
FTXZ35NV1B
FTXZ50NV1B
Casing
Colour
White
White
White
Dimensions
Unit
Height
mm
295
295
295
 
 
Width
mm
798
798
798
 
 
Depth
mm
372
372
372
Weight
Unit
kg
15
15
15
Fan
Air flow rate
Cooling
Nom.
m³/min
7.5
8.4
9.2
 
 
Heating
Nom.
m³/min
8.6
9.2
10.7
Sound power level
Cooling
dBA
54
57
60
 
Heating
dBA
56
57
59
Sound pressure level
Cooling
Nom.
dBA
33
35
38
 
Heating
Nom.
dBA
35
36
38
Piping connections
Liquid
OD
mm
6.35
6.35
6.35
 
Gas
OD
mm
9.5
9.5
9.5
Standard Accessories
Item
Photocatalytic air purifying and deodorising filter
Photocatalytic air purifying and deodorising filter
Photocatalytic air purifying and deodorising filter
 
Quantity
1
1
1
 
Item
Wireless remote control
Wireless remote control
Wireless remote control
 
Quantity
1
1
1
 
Item
Dry batteries
Dry batteries
Dry batteries
 
Quantity
2
2
2
 
Item
Remote control holder
Remote control holder
Remote control holder
 
Quantity
1
1
1
 
Item
Indoor unit fixing screws
Indoor unit fixing screws
Indoor unit fixing screws
 
Quantity
3
3
3
 
Item
Mounting plate
Mounting plate
Mounting plate
 
Quantity
1
1
1
Power supply
Name
V1
V1
V1
 
Phase
1~
1~
1~
 
Frequency
Hz
50
50
50
 
Voltage
V
220-240
220-240
220-240
Notes
 
220V
220V
220V
 
 
230V
230V
230V
 
 
240V
240V
240V
 
 
Front of heat exchanger
Front of heat exchanger
Front of heat exchanger
 
 
Back of heat exchanger
Back of heat exchanger
Back of heat exchanger