Here is the installation guide for how to install your Methven Kiri Satinjet ultra low flow shower head/handset
Some notes on installation:
After installation, all connections must be checked for leaks.
All installations must be carried out in compliance with relevant water regulations.
ULTRA LOW FLOW HANDSET INSTALLATION
Remove existing handset from hose. Insert the filter washer into the hose before screwing hose end to your Kiri ultra low flow handset.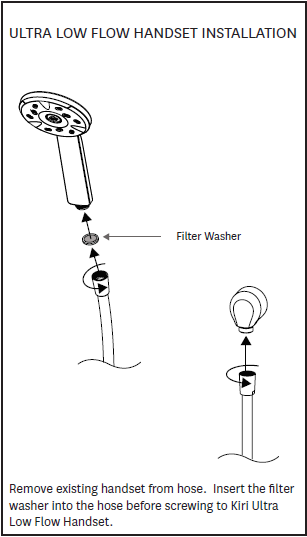 ULTRA LOW FLOW SHOWER HEAD INSTALLATION
Remove existing shower head from arm. Remove cap from Kiri ultra low flow handset/shower head. Screw shower head onto arm. Straighten shower head so it is in the correct orientation.