Hub
Providing internet connection to your other myenergi devices making them 'smart'. The hub and app work together to remotely control and monitor your products from anywhere in the world!
The hub also allows you to carry out firmware updates to keep your myenergi products equipped with all the latest features in this rapidly evolving industry. The hub is also required for zappi OLEV approval.
What the hub does
✔️ Remotely control your myenergi devices on your mobile and desktop portal with energy monitor
✔️ Utilise time of use tariffs and always charge for the cheapest prices with a my account login
✔️ Access to the latest firmware updates 
✔️ Status LEDs – show if energy is being diverted by your Myenergi products
✔️ Comes with an ethernet cable
✔️ Comes with mains power supply
✔️ Required for zappi OLEV approval
Perfect combo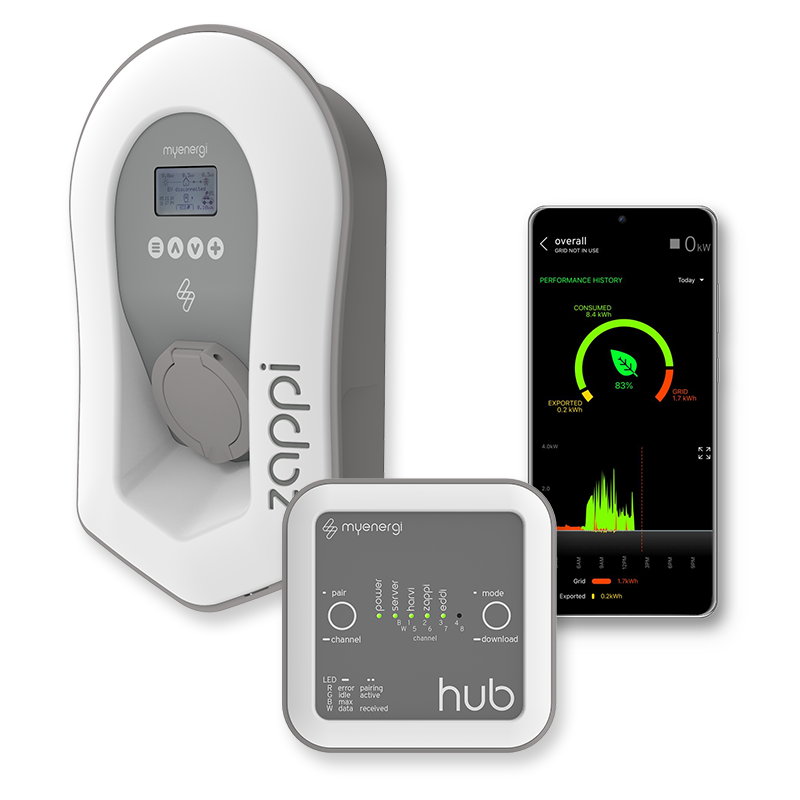 Remotely control and monitor your myenergi devices using the app. Pre-set heating and hot water on your eddi and the charging modes on your zappi.
View live energy flow, consumption, generation and diverted energy data with our sophisticated energy monitor.
Schedule a budget charge and set charging parameters, where your zappi charger will automatically recognise the cheapest electricity tariffs, to ensure you always charge for the cheapest prices.