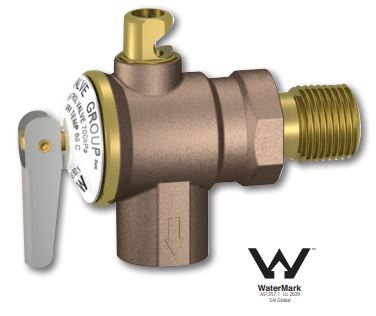 Sometimes you may notice some dripping from your Sanden Eco Plus heat pump hot water system. It may be a drip you won't need to worry about or it maybe a problem that requires a valve replacement or a pressure reduction valve to be installed at your meter.
Firstly if your hot water system is dripping only while it is heating hot water (ie the fan is blowing on the condensor unit which occurs daily from 2-4 hours) between 1-6L per day depending on your hot water usage then everything is fine and normal - but read on so you can understand the full situation.
Most hot water systems in Australia are pressure hot water systems. That means they operate at mains pressure. This means that when water is heated and the water molecules expand the physical volume of all that water in the water cylinder expands. This means a tank needs to be fitted with an expansion valve that releases pressure as your cold water expands while it is heated. Based on a fairly standard input cold water temperature of 12 degrees Celsius lifting to target 63C this results in about 1 litre of waste production per 50L that you consume in your house. So a full tank reheat for a 250L tank would result in 5L approx water production per full tank heat cycle. If a pressure valve was not fitted to your tank (which is illegal and dangerous) then the result would likely be fatiguing of all the welds and connections in the tank and a much shortened life for the tank voiding warranty but much worse than that tanks have been known to explode.
From WA Commerce RE tanks with blocked pressure valves Take the pressure down: water heater explosion prompts maintenance reminder
In the simplest cheapest setup a tank is just fitted with a hot expansion valve known as a PTR valve which is fitted at the top of the tank. The PTR valve releases water as the water molecules in the tank expand during a heat cycle this has the disadvantage however of costing heat energy as water from the hottest part of the tank is always released. In a better best practice setup as is supplied normally with your Sanden hot water service an ECV cold expansion is also fitted which preferentially drips cold water instead of hot water. So your PTR hot expansion valve at the top of the tank should produce very little or no hot water while the ECV is releasing pressure from the vessel. (*To nerd it up the reason that ECV and PTR can both act on the expanding water pressure is that there is a non return valve which only allows water to flow one way from the cold mains in to the hot water side of your house fitted at the cold water inlet side of your hot water service). As an added bonus where an ECV is fitted if your PTR fails then the ECV is a backup safeguarding you further against the possibility of a tank explosion. In locations with mineralisation and other water quality issues for this reason it is mandatory to have both a PTR hot expansion and ECV cold expansion fitted so as to safeguard and reduce the likelihood of an catastrophic explosion or other failure ever happening.  You should always pull your PTR and ECV valve levers to check there are no blockages this is recommended to be tested by the householder either every 6 or 12 months depending on water quality in your location.
There is one more reason an Expansion Control Valve (ECV) will is fitted to your Sanden and this is because the Sanden is designed and warranted for 500kPa max mains water pressure. If water pressure exceeds 600kPa to avoid potential issues the ECV will start to drip even when your hot water service is not producing hot water. In this case you need to get a pressure reduction valve installed on site. This is usually installed at the meter and normally costs between $250-$500 to install in most situations. Pricing depends on access to the meter and a suitable location to cut in and install the pressure reduction valve. The pressure reduction valve is something every house that has high pressure needs as all the flexi hoses for bathroom, kitchen and laundry mixing taps and flexible hoses on dishwashers and washing machines are warranted to 500kPa Australian standard max pressure. Also your insurance company can potentially use it as an out on paying for a claim if you knowingly have high pressure and do not get it checked so something no one should risk.
If you see condensate from underneath your Sanden heat pump, this is perfectly normal and within specification. When moisture laden air (otherwise known as humid air) is drawn over the coil of a heat pump, the water in the air freezes on the coil as it passes through. This frozen water (condensate) melts off the coil and that water (condensate) will drip underneath the Sanden heat pump). This condensate needs to drip out from the Sanden heat pump otherwise it can cause multiple water damage conditions and potentially damage the heat pump unit. The amount of condensate that the heat pump generates depends on the relative humidity on the day. Using a drip tray/pan is one way to capture the condensate underneath the Sanden.