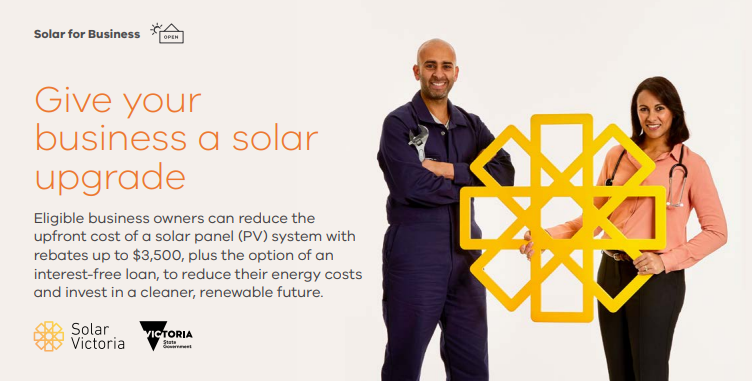 Eligible businesses can apply for a rebate of $3,500 to install a solar panel system, with the option to take advantage of an interest-free loan up to $5,000.
Rebate
Eligibility Criteria:
All entity types, including charities and not-for-profit organisations, are eligible for the Solar for business rebates providing they meet the following eligibility criteria:
Be the owner of a business that employs at least one person, not including the business owner, and less than 50 full time equivalent (FTE) employees
Operate from premises that are non-residential.
Operate from premises that are individually metered
Have not previously received a Solar for Business rebate
Have your system installed by a Solar Victoria approved solar retailer as detailed on Solar Victoria's website
Install a solar system with an inverter capacity size up to 30kW, and detailed on the Solar Victoria approved product list
Businesses who own their premises and those who rent can apply for the Solar for Business rebate. A rental provider/landlord of the business premises cannot apply for the rebate on a business' behalf.
Interest-free loans
To further reduce costs, business owners can apply for an interest-free loan. The loan amount is based on the quote you provide to Solar Victoria. Loans offered start from $1,000 up to a maximum amount of $5,000. You have the option of paying over 12 or 24 months or can be repaid sooner in one lump sum.