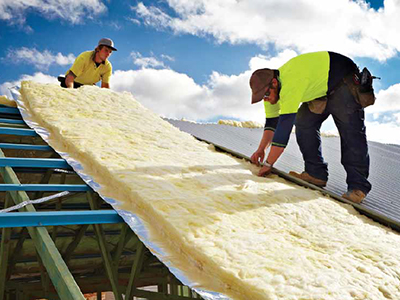 When it comes to home cooling and heating the phrase 'work smart rather than working hard' applies; by that I mean you only want your air conditioning (AC) system to work as hard as is necessary to keep your house comfortable.  The way you 'work smart' is to insulate and shade (in summer) your home, that way your AC unit will have a much easier (and longer) life and the heat or 'coolth' it generates stays in your home (where you want it) instead of leaking outside where it is wasted.
Let's take summer shading first, to give you an idea of just how important shading is consider the following scenario:  imagine you have a 3m x 6m north facing window in direct sun on a 40 °C day each square meter of that window is transmitting about 1 kW of heating energy straight into your home thus the whole 18m2 window is transmitting a whopping 18 kW of heat energy into your house (yes some is reflected but this is to illustrate a point).  To cool that additional 18 kW heat load would require and industrial scale air conditioning unit (at a cost of $10,000) ...or you could shade the window with a shade cloth/tree/blind at a tiny fraction of the cost, a no brainer really. The shade cloth etc will block out most of the radiant heat from the sun but not convective heat from the 40 °C air that surrounds your home, for that you will need insulation. 

According to the laws of thermodynamics, the heat from the 40° C ambient air will migrate into your 20 C° home. To slow this down you need insulation, which provides a thermal barrier i.e. it will reduce the rate at which thermal energy crosses its material and the rate depends on the material used.
What exactly is R value?
Before we look at the insulating property of different materials (measured in R value) it is worth understanding what R value actually means.  Put simply the R value (m2.K/W) tells you how much energy (in Watts W) passes through a square meter (m2) of material per second for a given temperature difference (measured in Celsius C° or Kelvin K° both are equivalent).  To give an example say you have a temperature difference between inside and outside your home of 20 C° and 1 sq meter of insulation that transmits 5 Watts (about the power of an LED bulb) from one side to the other the R value would be 20/5 = 4.  If it let through 20 watts (about the power of 4 LED bulbs)  it would be 20/20 = 1, R value 1.   Ok, now we are ready to look at the R value of different materials.
The insulating value of various materials
Now we can take a look at the insulating properties of various materials to give you a sense of their relative insulating potential; the materials we are looking at are the ones you would commonly find on the thermal envelop of a home or building.  Note the thicknesses of the materials vary and are indicative of the thickness of the materials as they are present in a home or building so not all R values for the different materials are a one to one comparison. Also the R value of a material is not necessarily directly proportional to its thickness, that is, doubling the thickness of the material will not necessarily double the R value (but will improve it).   
| | | | |
| --- | --- | --- | --- |
| Material | Thickness (mm) | R value | Building surface |
| Roof |   |   |   |
| R7 (Best available) | 275 | 7.00 | Roof |
| R6 (various materials) | 275 | 6.00 | Roof |
| R4 (various materials) | 200 | 4.00 | Roof |
| Colourbond | 1.2 | 0.00 | Roof |
| Concrete Tiles | 50 | 0.05 | Roof |
| Wall |   |   |   |
| R2.5 (various materials) | 140 | 2.50 | Wall |
| Aerated concrete | 200 | 1.54 | Wall |
| Solid brick | 230 | 0.44 | Wall |
| Solid concrete | 200 | 0.30 | Wall |
| Mudbrick | 300 | 0.54 | Wall |
| Weatherboard | 10 | 0.50 | Wall |
| Window | 6 | 0.16 | Wall |
| Double glaze | 12 | 0.30 | Wall |
| Triple glaze | 12 | 0.50 | Wall |
| Spray foam closed cell | 100 | 4.80 | Wall |
| Spray foam open cell | 100 | 2.64 | Wall |
| Floor |   |   |   |
| Carpet (wool) | 10 | 0.38 | Floor |
| Carpet (polyester) | 10 | 0.17 | Floor |
| Carpet + rubber underlay | 20 | 0.54 | Floor |
| Hardwood | 10 | 0.12 | Floor |
| Tiles | 10 | 0.009 | Floor |
Source:  EfficiencyMatrix.
What affects the quality of insulation?
The quality of your insulation install we have a big effect on how your insulation performs. Insulation that is well installed will fit snugly between the joists in your roof not allowing any gaps for heat to leak into and out of your house. Another consideration is thermal bridging a thermal bridge is like a highway that allow heat to bypass your insulation examples of thermal bridges include: metal house frames, vents and skylights, LED down lights, metal wall ties, concrete slabs that extend outside the building.  Thermal bridging can be rectified via thermal breaks, down light covers etc. the key is detecting them; this is best done by a thermal imaging camera.
Where you lose/gain heat in the home in summer and winter
It is useful to see which surface in your house loses/gain the most heat; this will give you clues as to where you need to beef up your insulation and shading. 
As you can see there are differences between summer and winter. The main difference is that in summer it is critical that you shade your windows as they can majorly contribute to heat gain in the home (something that most people know intuitively).  In winter air leakage is much more of a consistent problem when it comes to losing heat.  In both cases the roof is the most critical surface that needs insulation, so if you are looking for somewhere to start, start there.  For a higher resolution look at where your insulation is not up to scratch, you can use a thermal scanner.
Insulation and shading will affect the size of air-conditioner you will need to heat and cool your home and how hard it will need to work.  It is recommended that you properly insulate your home before installing your AC system (or at least factor in a future insulation upgrade when sizing your AC system).