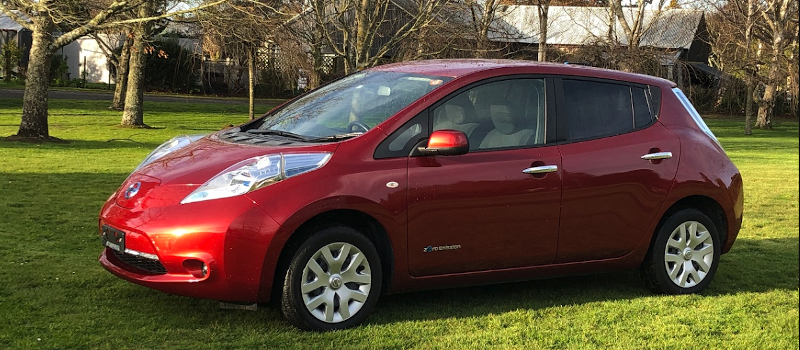 What sweet irony that in the same week the Bridgestone World Solar Challenge was kickstarted by 53 futuristic vehicles able to drive 3000km using only sunlight, that my father's rooftop solar panels generated enough electricity to theoretically power his $17,000, second-hand Nissan Leaf for 1500km.
Of course, he doesn't need to drive his Leaf for that distance and, in fact, the model that he owns after 5 years of being continually fast charged (abused) by its previous owners in Japan has a very useful range on each full charge of 100km.
That is considerably less than the latest model of Nissan Leaf to hit Australian roads, which has a range of 270km.
Nissan says that already more than 11,000 customers have registered their interest in the new Leaf.
So much for the misguided hyperbole of the Coalition, who claim that electric vehicles are "an attack on the Aussie weekend", or the winding back of Labor's target of 50 per cent of new car sales by 2030 being electric models … Australian motorists are increasingly ignoring the political bluff and bluster about emission-free cars and joining the Norwegians in voting with their feet firmly planted on the EV accelerator.
In October, 54.5 per cent of all new car registrations in Norway were of electric vehicles. It is the second time this year that EV sales have out-paced fossil-fuel driven cars. The nation has 49,500 EVs registered, just ahead of Germany's 48,000.
The latter is a world leader in solar rooftop installations and it is clear Germans are motoring on thanks to photovoltaic panels. Here in Australia, we also have the technology, infrastructure and pricing to allow ordinary motorists to fill their tanks up with electric sunshine and thousands of kilometres each week without running out of fuel.
When you consider that sales of Australian petrol and diesel cars have been falling for 18 months – September sales were just 88,000 units – having a customer waiting list an eighth of those sales is pretty impressive.
Demand for Tesla's Model 3 is also believed to be very firm, with website TheDriven reporting: "It is believed that up to 200 vehicles are being delivered per day at each of Tesla's Brisbane, Melbourne and Sydney delivery centres, with as many as 1500 vehicles having made it to customers in September alone."
Toyota, with 15,000 unit sales is at ten times this however they've been doing this for decades and with serious support from the Japanese government. So Tesla in its first sales of a mass produced car is doing tremendously well.
To say that there is a very strong appetite for electric vehicles in Australia today is no understatement.
Tesla customers are willing to part with a minimum of $66,000 for the new model. The new Nissan Leaf comes in at $49,990. That price makes it very competitive with two of Australia's most popular cars in September, the Toyota Camry and the Mazda 6, both of which are described as medium cars under $60,000.
The Leaf pricing also leaves gasping for clean air the one-time darling and petrol-guzzling Holden Commodore, which today is the biggest selling large car under $70,000.
But back to Dad. He doesn't have to pay for his fuel. In fact, during some of his trips he can even add more free electric energy to his car.
The other day, he set off to the shops with an 80 per cent charge. He plugged in the Leaf at a Woolworths supermarket, which has free recharging booths, and went for a spot of retail therapy.
About 50 minutes later, the Leaf was topped up with an added 15km. The 80 per cent charge had been boosted to 84 per cent while he did the shopping – for free.
And it gets better than that with promotional offers. Overnight he takes advantage of Powershop's ridiculously cheap EV promotion of 9.5c/kWh between midnight and 4am. He sells his electricity (solar) for 22c/kWh, that's twice as much as he pays for it, so yes, essentially, he is getting his EV power for free plus some.
Come the height of summer, his new 52kW rooftop solar system will be able to power the Leaf for around 2000km.
Dad's daily driving needs are only about 40km, but if he were to run a fleet, his rooftop generation would produce enough to power 50 Leafs with the same range requirement.
And you don't need a big house to carry a 52kW solar system. Dad's digs are average in size. However, he does have solar panels on his garden shed and carport, and vertical panels on some exterior walls.
The good news is that even if you have a small house, within 10 to 15 years, panels will double in efficiency, thanks to multi-layer panel configuration and Heterojunction technology (HJT).
This innovation, one of an exploding number of ways to optimise solar energy production, combines the advantages of crystalline silicon solar cells and thin film technologies to allow solar cells to reach higher degrees of efficiency at a lower cost of production.
So, why on earth would any tax-paying citizen want to support/compensate a new oil field, pipe line, gas tanker, military force to secure oil reserves, future Iraq-style invasions, Iranian tanker hijacking, or potential environmental disasters like the one created by oil empire Exxon Valdez, when their own roofs can allow them to drive petrol-free for an impossible 2000km in just a day?