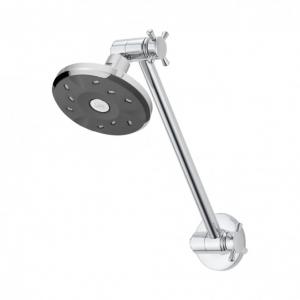 Methven 5.0L/min Kiri Satinjet Graphite Low Flow Hi Rise Shower on Capstan Arm
$365 $390
QUICK REVIEW
Kiri is our answer for lovers of clean lines and strong, dynamic forms. This solid architectural style makes its presence known in your bathroom, but not on the environment.
Methven 5.0L/min Kiri Low Flow Showerhead + Capstan Arm
A full-body shower experience, like no other Exclusive to Methven. Satinjet's® colliding twin jets produce over 300,000 droplets of water per second for the ultimate shower experience.
Single function shower rose featuring Satinjet spray
Easy to clean faceplate
Stylish and durable, solid brass, modern arm with flange
As new condition - has been used for one quality assurance test
Testimonials
What they are saying about
us
What can I say the Methven shower head is so much better than regular water saving shower heads, you don't even notice it uses less water until you look at the shower floor and notice you aren't stand...
Matthew provided excellent advice and was happy to answer my many questions. The team were great to work with for the installation and have promptly continued to answer any questions I have. I would d...
Paul was fantastic. Unlike another plumber who wiped his hands of us, Paul was courteous and patient and was able to guide me through getting our hot water service up and running. He also took the ti...
F.A.Q
Frequently Asked
Questions
Cleaning advice for my Methven Kiri Satinjet ultra low flow shower head

How do I clean my Methven Kiri Satinjet ultra low flow shower head?

Water contains lime which remains on a surface when the water evaporates. Lime deposits can be prevented from forming by wiping the shower head surface immediately after use.

To clean the chrome-plated shower head surface use a soft cloth, soap and warm water. Never use cleaning agents as they may contain a corrosive acid or a scouring additive.

How do I install my Methven Kiri Satinjet ultra low flow shower head/handset?

Here is the installation guide for how to install your Methven Kiri Satinjet ultra low flow shower head/handset

Some notes on installation:

After installation, all connections must be checked for leaks.
All installations must be carried out in compliance with relevant water regulations.

ULTRA LOW FLOW HANDSET INSTALLATION

Remove existing handset from hose. Insert the filter washer into the hose before screwing hose end to your Kiri ultra low flow handset.

ULTRA LOW FLOW SHOWER HEAD INSTALLATION

Remove existing shower head from arm. Remove cap from Kiri ultra low flow handset/shower head. Screw shower head onto arm. Straighten shower head so it is in the correct orientation.

If the Methven Kiri Satinjet uses so little water how will I have a proper shower? How is it better than other low flow shower heads?

Older low flow shower heads simply restrict the flow of water coming out of your shower, this has lead some people to believe that all low flow shower heads are the same and produce an inferior shower experience. It is important to note that the Methven Kiri Satinjet uses completely different technology to a normal shower.

What technology you might ask?

As the name suggests the technology is called Satinjet. Satinjet technology is based on the Venturi effect, where air is sucked in to the shower head through special breather holes to create large droplets of an air/water mixture with maximum surface area for minimum volume. The Satinjet head produces 150,000 of these droplets per minute.

So instead of most of the warm water simply flowing off your skin without imparting any warmth, as it does in a normal shower, the Satinjet covers your skin in a warm cloud of smaller droplets imparting maximum warmth to you even though the flow of water is much less than a regular shower. In short the Methven Kiri Satinjet is much better and more efficient than a regular shower head, which has to drench you in water to get the same warming effect.
Full-body shower experience: Exclusive to Methven. Satinjets colliding twin jets produce over 300,000 droplets of water per second for the ultimate shower experience.
Methven revitalises the traditional shower: The traditional shower experience, enhanced by leading-edge Methven technology
Easy DIY installation: Replace your shower rose on your own - no need for a plumber
Low Flow technology: The revolutionary Kiri Low Flow range provides a great shower at a flow rate of just less than 5.0 litres per minute
Low maintenance single function Satinjet shower
Easy clean coating on faceplate
Unlike conventional showers, Satinjet uses unique twin-jet technology to create optimum water droplet size and pressure. The result is an immersive, full-body experience.
Flow Rate <5L/min saving on energy costs, water costs, water sewerage disposal costs
Care Tips:
Regular cleaning of your product is recommended to avoid stubborn build-ups of dirt and limescale. For regular cleaning, use a soft cloth and mild soap or detergent.
Never spray cleaning agents directly onto your product as the spray can get inside and cause damage where the concentrated cleaner cannot be rinsed out. Always spray the cloth then wipe the product or use a cloth that is damp with a water & detergent solution.
Never use metal or abrasive scouring pads as these will scratch and damage the finish on your product. Never use cleaners that contain a scouring additive such as creme cleaners that contain silica.
Do not use aggressive or highly acidic cleaners, these include products containing, sodium hypochlorite (chlorine bleach), formic acid, hydrochloric acid, hydrogen peroxide or ammonia. Never mix cleaning agents. The use of harsh or abrasive cleaners will void the product warranty.
After cleaning make sure you remove any residue left by the cleaning agent by residing thoroughly with clean water and wipe dry using a dry soft cloth. Do not leave cleaning products in contact any longer that necessary.
| | |
| --- | --- |
| NAME | Methven 5.0L/min Kiri Low Flow Satinjet Rose |
| BRAND | METHVEN |
| MODEL NAME | Kiri Low Flow Satinjet Rose |
| COLLECTIONS | Kiri |
| TECHNOLOGY | Satinjet |
| NOMINAL FLOW RATE (L/min) | 4.8 |
| FLOW RATE (L/min) | 5.0 |
| ACCESSORY? | Yes - Capstan Arm Accessory |
Methven Kiri Satinjet Ultra Low Flow shower head Conventional Dual Pivot Arm
More Details