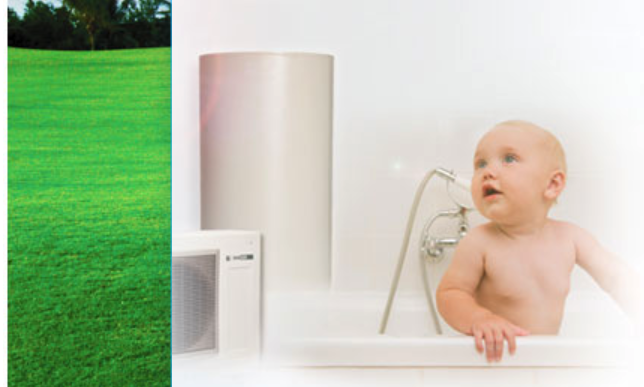 History of the Sanden CO2 heat pump
The Sanden Eco Plus is in already in its 4th generation in the Australian market.   Sanden a global manufacturer of refrigeration for the automotive and food industry released the product in Australia in 2010 originally in partnership with Edson Australia.   At that time the product debuted at over $6000 a big sum to pay.
The relationship was short lived with Edson as they hit financial problems in other areas of their business and later Sanden took the reins and started marketing the Sanden direct with sales expertise from Daikin a big player in both the retail and commercial refrigeration space.  (Daikin and Sanden both sell the most efficient Made in Japan refrigeration products in their area.  The Sanden Eco Plus is the most efficient in water heating on the market and the Daikin US7 is the most efficient in space heating.)
Sanden then directly offered the G2 heatpump with a COP of 4.5 for a number of years with a 3 year warranty on the refrigeration system and 10 years on the tank + 5 years pro rata.  At a COP of 4.5 the G2 sanden used 78% less energy than a conventional electric hot water heater and 85% less than a conventional gas hot water heater.
COP is the measure of the amount of energy to run the pump which then allows for the high pressure gas to create the refrigeration cycle with a hot side (in the tank) and a cold side (in front of the heatpump to make the whole energy efficiency product work.
Following that success and very low warranty and return rates Sanden were able to up the ante with their G3 heatpump the Sanden Eco Plus which was then supplied with a COP 5.0 80% savings versus electricity 86% versus gas.  This product was able to be offered with a 6 year warranty due to the success of the previous one.Tank warranty stayed the same on the stainless steel tank.
Today Sanden have just released the new G4 with a COP of 5.6 that we at Pure Electric Solutions are currently supplying.  The Sanden G4 uses 82% less energy than a conventional electric and 88% less energy than a conventional gas heater.
To round it out when combined with the 4.5L/min Methven Kiri Satinjet Ultra Low Flow supplied exclusively through Pure Electric. Savings of upto 96% versus conventional gas hot water are possible.  That's by switching from a regular gas hot water service with a regular old school dual pivot 20L showerhead to a Methven Kiri Satinjet Ultra Low Flow and Sanden Eco Plus G4 COP 5.6
The future is CO2 heatpumps for hot water, the revolution is on the way and you can be part of it now with Sanden and Methven.