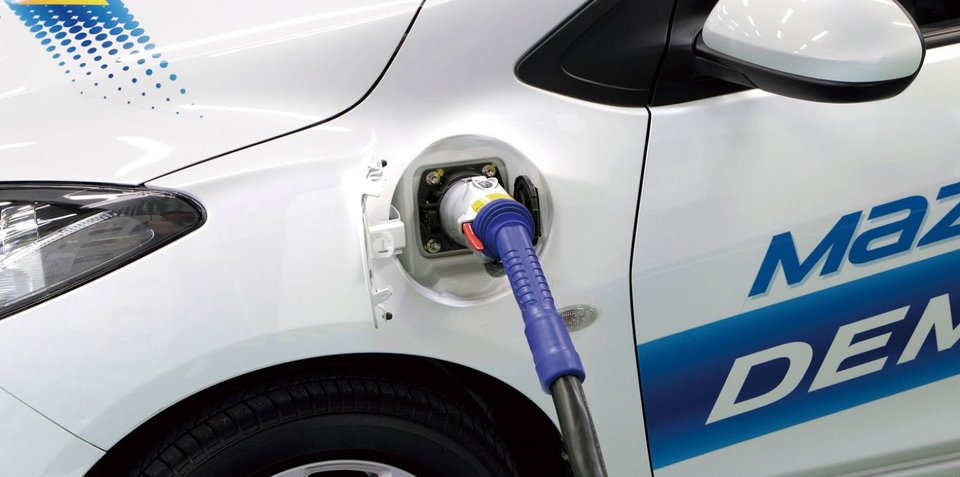 Mazda has announced that they will join rivals in the motor industry in supplying an all electric vehicle platform in 2019.

The company's offering will be built on a standard ICE (internal combustion engine) platform and will take advantage of huge advances in lithium ion battery technologies that have occurred in the last few years. While rivals who entered the market early have made huge investments which includes getting battery technology to maturity Mazda's late arrival will see it as a beneficiary without having to outlay the research capital.  This low investment entry also includes using the same platform as their ICE cars.  To save even more on development costs they have entered into a partnership with rival Toyota and will share technology and development costs.  
"The same vehicle will be sold as either a pure electric or a plug-in range extending hybrid electric vehicle by using a small version of Mazda's rotary engine that will spin efficiently at 2000rpm when the batteries are depleted for longer trips.  At this point burning fossil fuels."  said Pure Electric founder Matthew Wright
"It seems that Mazda is yet to take electric vehicles seriously, throwing out the old spurious arguments such as in some markets like Australia and the USA EV's are not clean because the electricity grid has a lot of fossil fuels including gas and coal"
"Obviously if you take the Tesla approach and everyone is rolling out solar on their roof then the fossil fuels over time and probably a very short time - well short of the 16 year life of an average car will mean very little as renewables solar and wind power dominate.  For many home consumers that will be solar on their own roofs stored in their own batteries, powering their houses and running their cars."
There is some good news from Mazda - they do seem to be contributing something to the world of Electric Vehicles. The Demio EV (which is their work in progress) has a coil-switching motor which uniquely delivers high torque and high RPMs. This is achieved by switching the number of coils engaged with the motor dependent on the RPM count. The leads to a combination of countering inertia with powerful startup and easy light acceleration at high speed.  Features that a conventional motor is not physically capable of.
"Although Mazda is taking a cautious approach they do appear to be ahead of rival Subaru who haven't yet made a serious play.  We're looking forward to Mazda releasing the platform and the cultural and thinking shift that will bring in a company that still seems to think fossil fuels are the future."
Pure Electric offers solutions for going all electric and integrating electric vehicles into your lifestyle.